Victor Harbor gym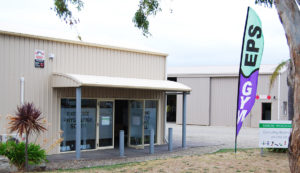 Exercise Physiology South's gym facility is located at 3/3 Commerce Crescent, Victor Harbor.  Although classes and consultations are also carried out at Yankalilla too.
The Victor Harbor gym is the location for consulting services as well as offering one-on-one and group exercise sessions.
Group session times:  
Mondays – 8am, 9am, 10am, 11am, 4pm
Tuesdays – 8am, 9am, 10am, 4pm
Thursdays – 8am, 9am, 4pm
Fridays – am, 9am, 10am
Gym times for those managing cancer:
Mondays – 2pm & Fridays 11.30am
Equipment:  
A range of equipment is available to cater for a wide variety of exercise needs, including clients who need to sit to exercise or those with special needs such as wheelchair patients or people with other mobility issues. Our gym facility is designed to address specific health needs in our clients – those requiring specific exercise programs to maintain and improve their health and physical wellbeing.
Group sessions:
Clients need to be individually assessed before attending these sessions. In most cases, a 30 minute assessment will be enough.
Group sessions are 60 minutes. They have a strength focus with cardiovascular components and other options such as core strength, flexibility and balance. Each person will work to an individualised program addressing their specific health needs and goals. Sessions will be supervised by an Accredited Exercise Physiologist.
Costs may attract rebates from Medicare (for Type 2 Diabetes Mellitus patients only), private health funds and Department of Veterans Affairs.
Small group sessions may be available on request.
One-on-one sessions:
One-on-one sessions are available for 30, 45 or 60 minutes. The price will be negotiated at the time of booking.
Fees:  
No long-term memberships are offered at this time. Payment will be by cash, cheque, credit card or direct deposit only. All fees are to be paid at the time of the first visit and must be used within six months of purchase.
Initial assessment $40 (30 minutes)
Casual visit $8.50 per session
Package $60 for 8 sessions. A card will be provided and will need to be produced at each visit.
Small group sessions costs will be discussed on booking.
For full details of the services we offer see our Services page.