What is Exercise Physiology?

Simply put, exercise physiology is the study of how the human body reacts to exercise. Exercise physiologists focus on appropriate prescription of exercise as a means to improve the physical and health status of an individual who range from athletes to those with chronic health conditions.
The right kind of exercise has been proven to positively alter a wide range of chemical, muscular and even skeletal processes and structures within the human body.  An exercise physiologist is someone who is academically qualified in exercise physiology.  
Who can be assisted by exercise physiology?
Exercise physiology programs are suitable for all age groups, sexes and fitness levels.
An exercise physiologist can assess and prescribe programs for people suffering:
Chronic conditions including

diabetes,
lung disease,
hypertension,
vascular disease,
cardiovascular disease,
and osteoporosis;

metabolic syndrome;
mental health conditions;
from pain and disability associated with recovery from stroke, joint replacement or surgery;
chronic pain and
anyone requiring general conditioning to improve their health and well-being.
Where are the services provided?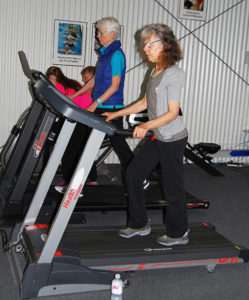 Patients are given exercise options and programs for cardiovascular activities, general strengthening, balance and falls prevention, mobility and flexibility.  These can usually be done in your own home although some private consultations can be conducted at a gym or pool setting.
Exercise Physiology South offers gym sessions and consultations in both Victor Harbor and Yankalilla, home visits for those unable to make it to the gym sessions and pool-based exercises from the Fleurieu Regional Aquatic Centre in Victor Harbor.